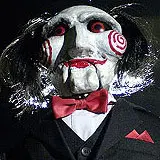 Saw VI with Tobin Bell was the weakest box office performer in the series thus far despite managing decent reviews from critics which should make it a sought out commodity on home video.
We can now confirm that Lionsgate has pegged January 26 as the release date for Saw VI on Blu-ray Disc and DVD. For a first time in the series, the original Saw film will be packaged in with the Blu-ray and both DVD versions to help introduce newcomers to where it all began — and of course spur sales of the "middle" films.
Lionsgate is bringing the unrated director's cut of Saw VI to Blu-ray like its predecessors in 1.78.1 1080p video and 7.1 DTS-HD Master Audio. Full bonus features play out as follows:
Includes origina Saw movie
Audio Commentary with Producer Mark Burg and Executive Producers Peter Block and Jason Constantine
Audio Commentary with Director Kevin Greutert and Screenwriters Patrick Melton & Marcus Dunstan
"Jigsaw Revealed" featurette
"The Traps of SAW VI" featurette
"A Killer Maze: Making SAW GAME OVER" featurette
Music videos from the bands Mushroomhead, Memphis May Fire, Hatebreed and Suicide Silence
Original theatrical trailer
Lionsgate Live
Touch and Metamenu Remote enabled
A first look at the Saw VI Blu-ray cover art is below. No sign yet of an Amazon.com pre-order link but I'll be sure to pass it along once it goes live.