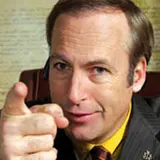 Saul Goodman has brought levity and sometimes outright hilarity to AMC's Breaking Bad over the years since his introduction in Season 2. Though Saul was never as visible as Walt or Jesse on the show, his fortunes will be changing after AMC formally retires Breaking Bad in a few weeks to conclude Walt's story.
What started off as a potential rumor or even a joke became real today when AMC announced that Better Call Saul has been green lit to a pilot order. The licensing agreement was reached between Sony Pictures TV and AMC after a drawn out negotiation that had Netflix waiting to pounce on the series if AMC balked. With Breaking Bad and Mad Men off the schedule by the end of next summer and new shows like Low Winter Sun failing to catch on, AMC couldn't afford to let the Breaking Bad universe slip away.
Breaking Bad's writer Peter Gould and creator Vince Gilligan will shepherd the potential new series to the small screen with an hourlong pilot that will focus on the law career of criminal attorney Saul Goodman (Bob Odenkirk) before he took on Walt White as a client. Odenkirk will return to the role and star in the show.
Better Call Saul refers to the Breaking Bad episode title in which Walt and Jesse sought out Saul Goodman to be their attorney in Season 2 of Breaking Bad after Badger was busted by an uncover cop. Odenkirk made an immediate impression as the shady lawyer and has remained with the show ever since. His fate at the conclusion of Breaking Bad is unknown, though speculation is brewing that he might not survive given the series being a prequel and not a sequel.
AMC's decision to turn back the clock before Breaking Bad is set opens up the potential for deceased favorites to make an appearance in Saul's office. I suspect fans will be counting on that and the expectation will help drive viewership and ratings.
Development on Better Call Saul, which was first reported by The Wrap in July, should move forward relatively quickly with the Breaking Bad series finale set for Sunday, September 29. The new series could conceivably slide right into Breaking Bad's Sunday 9/8c time slot in summer 2014 on AMC.