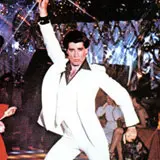 Saturday Night Fever, teased for well over a year in Paramount Blu-ray packaging inserts as "coming soon," will finally find its way to stores on May 5.
Saturday Night Fever will join Grease on Blu-ray, another Travolta classic, releasing the same day as part of a huge catalog title push by the studio (see the Grease announcement here).
Paramount has yet to issue specs or bonus features for Saturday Night Fever. An educated guess would yield 5.1 Dolby TrueHD audio, 1080p video and like all the bonus features found on the 30th anniversary DVD set.
Amazon.com is currently accepting pre-orders for Saturday Night Fever on Blu-ray. You can secure your copy for $20.99 by clicking here.