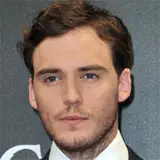 Sam Claflin has been rumored for the role of Finnick Odair in The Hunger Games: Catching Fire for seemingly as long as casting rumors have been floating around. Today Lionsgate made his participation in the hot sequel official.
Finnick hails from District 4 and won the 65th Annual Hunger Games when he was only 14 years old. He will play an integral role in the 75th Hunger Games, an all-star affair which will see Katniss (Jennifer Lawrence) and Peeta (Josh Hutcherson) return to the deadly arena.
Claflin's deal will likely cover not only The Hunger Games: Catching Fire, but also The Hunger Games: Mockingjay Part 1 and Part 2, though Lionsgate's official announcement only mentions Catching Fire.
You may recognize Sam Claflin from his appearance in Disney's Pirates of the Caribbean: On Stranger Tides. He also appeared in Snow White and the Huntsman alongside Kristen Stewart and Chris Hemsworth. In Catching Fire, Claflin will get the opportunity to meet the other Hemsworth brother, Liam.
The Hunger Games: Catching Fire is getting ready to start shooting in anticipation of its November 22, 2013 release.