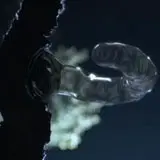 Fox has released the final disc specs and bonus features for S. Darko: A Donnie Darko Tale, the new direct-to-video sequel of Donnie Darko.
Daveigh Chase, who played Donnie's sister Samantha in the original and reprises her role to lead the sequel, adds a smidgeon of authenticity to an otherwise "unauthorized" film with no involvement from the original's director Richard Kelly.
S. Darko comes to Blu-ray in a 1.78:1 1080p transfer with 5.1 DTS-HD Master Audio.
All of the bonus features are being offered in high definition but sadly Daveigh will not figure into the audio commentary.
Filmmaker Commentary
Deleted Scenes (HD)
The Making of S. Darko (HD)
Utah Too Much (HD)
Check out the trailer by heading over to the official Fox S. Darko website here.
S. Darko: A Donnie Darko Tale arrives on Blu-ray Disc and DVD on April 28. Click here to pre-order S. Darko on Blu-ray for $22.49 from Amazon.com.