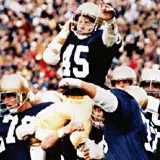 Sony Pictures Home Entertainment has announced one of the great feel-good sports films, Rudy, is coming to Blu-ray Disc on September 9 — just in time to kick-off the 2008 NFL and collegiate seasons.
Rudy on Blu-ray will presented in widescreen 1.85:1 1080p video and 5.1 Dolby TrueHD audio.
No supplemental features have been announced as-of-yet. We'll keep our eyes open and pass along an update should Sony bestow Rudy with extras.
Rudy on Blu-ray will carry an SRP of $28.95. Check back regularly for high resolution cover art and pre-order information.