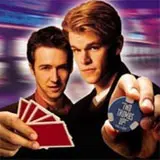 Back in January I reported Miramax had slotted a new 10th anniversary edition of Rounders with Matt Damon and Edward Norton for an April 14 release on Blu-ray Disc. Before given an opportunity to hit store shelves, Buena Vista removed Rounders (and Monsters, Inc., for that matter) from their spring schedule.
Given that Rounders' 10th anniversary window is only so long it was always assumed the title would return. Now we know when, but it's not when you might think.
Online retailer Amazon.com has recommenced taking pre-orders for Rounders on Blu-ray priced at $28.99. The release date listed with the pre-orders is not this fall, winter or even next spring. Rounders: 10th Anniversary on Blu-ray will not see the light of day until May 1, 2010.
Check out our previous report to familiarize yourself with the extensive bonus features to be offered in this set now nearly a year out.
Click here to pre-order Rounders on Blu-ray for $29.99 at Amazon.com.