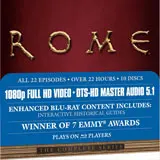 Online retailer Amazon.com has chosen Blu-ray Disc to represent their Gold Box Deal of the Day.
For today only, Saturday December 5, HBO's Rome: The Complete Series on Blu-ray Disc is priced at $59.99. That is 57% off the list price of $139.99 for 10 discs spanning two seasons, all in 1.78:1 1080p video and 7.1 DTS-HD Master Audio.
HBO box sets on Blu-ray have been pure win since the network began releasing them with Band of Brothers. Subsequent releases including True Blood: Season One, John Adams and The Sopranos have all impressed.
Click here to secure a set of Rome: The Complete Series on Blu-ray for sale at $59.99.