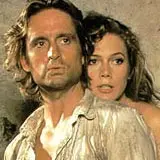 Multiple retailers have added active October 14 Blu-ray Disc pre-order listings for 1984's campy adventure Romancing the Stone and its 1985 sequel, Jewel of the Nile, both starring Michael Douglas and Kathleen Turner.
Early specs reveal each film will be presented by Twentieth Century Fox Home Entertainment in widescreen 2.35:1 1080p video and 5.1 DTS-HD Master Audio.
It's too early to report on any extra features at this time. Given Fox's spotty track record with including extras on catalog titles, we put the odds of all the material found on the previously released special edition DVD sets being ported to Blu-ray at 50/50.
Romancing the Stone and Jewel of the Nile on Blu-ray will be sold separately, each carrying an SRP of $39.98.
Join our discussion on Romancing the Stone and Jewel of the Nile coming to Blu-ray in the HDR Blu-ray Forum.