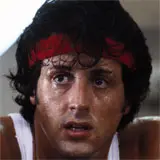 MGM Home Entertainmetn has confirmed by formally announcing that Sylvester Stallone's Rocky: The Undisputed Collection is coming to Blu-ray Disc on November 3.
As previously reported, the box set will include all six Rocky films spanning the same number of discs with a seventh disc included strictly for bonus features.
The official announcement details those features for the first time which are as follows:
Feeling Strong Now! Trivia Game
Three Rounds with Legendary Trainer Lou Duva featurette
Interview with a Legend – Bret Sugar (Author/Commentator and Historian)
The Opponents
In The Ring: Three-Part Making-Of Documentary
Steadicam: Then and Now with Garrett Brown
MGM makes no mention of remastering the original Rocky on Blu-ray so expect to see the same single disc release that is currently available. The same goes for Rocky Balboa, previously released by Sony Pictures Home Entertainment. All films will be offered with 5.1 DTS-HD Master Audio.
Rocky: The Undisputed Collection on Blu-ray carries a retail price of $99.98. You can pre-order it for much less by visiting Amazon.com.