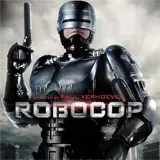 The upcoming RoboCop 4K remastered Blu-ray has seen a sales spike as the remake from director Jose Padilha nears the one-month mark until its theatrical release.
Sometime within the past 24 hours, the remastered RoboCop that Blu-ray adopters have been begging for MGM to release has catapulted up Amazon's Blu-ray bestsellers chart to land in second place, behind only Disney's hot pre-order for Frozen. It could very well overtake Frozen within the next day or so given the very affordable price Amazon.com is selling it for.
The retail price for the upcoming RoboCop 4K remastered Blu-ray is set at $19.99. Normally that would mean an Amazon price around $12 or $13, but for whatever reason, Amazon is currently pre-selling RoboCop for only $7.99. Hopefully this price will last from now until the release of the remake in early February to push sales of the Sci-Fi classic.
RoboCop 4K remastered will be released on January 21.
Click here to buy RoboCop 4K remastered on Blu-ray for $7.99 at Amazon.com.