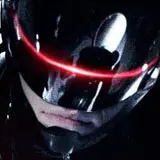 Jose Padilha's RoboCop reboot/remake starring Joel Kinnaman, Michael Keaton, Gary Oldman, Abbie Cornish, Samuel L. Jackson and Jackie Earle Haley has a confirmed June 3 release date on Blu-ray and DVD, with an early May 20 release date on Digital HD.
RoboCop underperformed at the domestic box office where it has earned $57.88 million to date. Overseas box office business has boomed with ticket sales approaching $184 million, bringing the total global box office total to over $241 million. The MGM and Twentieth Century Fox co-production cost an estimated $100 million to produce.
Fox is presenting RoboCop on Blu-ray in 1080p video and 5.1 DTS-HD Master Audio. Bonus features run over an hour total and include the following:
Deleted Scenes
OmniCorp Product Announcement
Robocop: Engineered for the 21st Century

The Illusion of Free Will: A New Vision
To Serve and Protect: Robocop's Weapons
The Robocop Suit: Form and Function
Click here to pre-order RoboCop 2014 on Blu-ray, DVD and Digital HD combo for $22.99 at Amazon.com, 43% off the $39.99 list price.