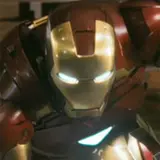 The Avengers is the culmination of Marvel chief Kevin Feige's master plan to build a worldwide brand out of comic book superheroes. He began with successful introductions of The Incredible Hulk, Iron Man, Captain America and Thor, and now is looking well into the future toward a post-Avengers superhero landscape.
As Marvel's Avengers franchise ages and continues to grow in popularity, one has to wonder what will happen to Iron Man when Robert Downey Jr. is either too old or not under contract to don the next iteration of high-tech armor.
Audiences crave Robert Downey Jr. as Tony Stark and Iron Man. Next month, Downey Jr. will suit up once again to star in Marvel's Iron Man 3, due out in theaters next May. If The Avengers series of films live on, and thus far there's no sign of them slowing down, the part of Iron Man may need to be recast whether due to Downey Jr's age or the inability for the two sides to ink a new deal.
Badass Digest took this very idea directly to Feige and asked – hypothetically – what would happen if Robert Downey Jr. was no longer in a position to play the part. Feige's response is that Tony Stark is much like James Bond and they would slide a new actor into the role. This would negate the need for a "reboot," a term Feige isn't too fond of. Someone else would simply jump into the role and put their own spin on it, much like three different actors have played Dr. Bruce Banner thus far.
Obviously it's Marvel's preference for Downey Jr. to play the role as long as he is able and willing. But Hollywood is first and foremost a business and we don't know how many more films are included in Downey Jr.'s Marvel deal. For all we know, Iron Man 3 is the last one in his contract and there's no deal in place for The Avengers 2, which could arrive as early as mid-to-late 2014.
Right now Robert Downey Jr. is Tony Stark and a central figure of The Avengers initiative. His importance to the franchise will become even more evident when The Avengers assemble in theaters a week from today and try to Hulk smash some box office records.
Source: BAD