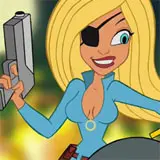 Rob Zombie's The Haunted World of El Superbeasto has finally secured a release date and will make a direct-to-video debut on Blu-ray Disc and DVD September 22 from Anchor Bay and Starz Entertainment. The release is loosely timed to come after Zombie's Halloween II arrives in theaters in August.The R-Rated animated film is based on Rob Zombie's comic of the same name. Zombie served as a co-writer and co-director while the voice cast includes Paul Giamatti, Rosario Dawson, Tom Papa, Sheri Moon Zombie, and Danny Trejo.
The adventures of the crime-fighting secret agent, El Superbeasto, a massive over-the-hill masked wrestler who has more interest in strippers than adventure, but still manages to get involved with murdering super-intelligent gorillas, Liverpoolian zombies, and Dr. Satan, a manic depressive mad scientist with a penchant for finding the perfect woman.
Additional information including tech specs and bonus features are currently unknown but will be shared once uncovered. You can view the cover art below and pre-order The Haunted World of El Superbeasto on Blu-ray for $25.99 at Amazon.com.