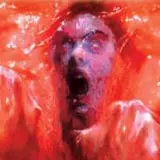 On the eve of Rob Zombie's Halloween 2 arriving in theaters, news has broke that the filmmaker's next film will be another remake of a horror classic.
Per The Hollywood Reporter, Zombie will begin writing his version of The Blob this winter while on tour and move swiftly into production next spring. It could theoretically crash into theaters by next fall.
Zombie chose The Blob as his next effort for the science fiction angle which he has yet to explore in his previous four strictly horror films. Even so, expect a fair amount of horror as the new Blob stalks its prey.
"I intend to make it scary, and the great thing is, I have the freedom once again to take it in any crazy direction I want to," Zombie said. "Even more than Halloween, where I had to deal with accepted iconic characters like Michael Myers and Laurie Strode. The Blob is more concept than specific storyline with characters, so I can go nuts with it."
The alien substance will still come from outer space like in the original but it will not be a big red gelatinous mass.
"My intention is not to have a big red blobby thing, that's the first thing I want to change," he added. "That gigantic Jello-looking thing might have been scary to audiences in the 1950s, but people would laugh now. I have a totally different take, one that's pretty dark."
Given Zombie's remake approach to Halloween and then original approach to H2, do you feel he's the right man to bring back The Blob? When he does, what you think it will look like if not strawberry Jell-O? Chime in below.