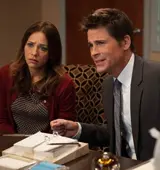 Rob Lowe and Rashida Jones are both scheduled to leave NBC's Parks and Recreation during the upcoming sixth season.
Lowe and Jones will appear in a good portion of Season 6 with their final episode being the 13th one as confirmed by executive producer Mike Schur in an official statement following the news first breaking via Buzzfeed. The exact circumstances of their characters' seemingly simultaneous departures are being kept under wraps, though it is expected to involve them moving to the next phase of their lives and potentially starting a family together.
Jones is a Parks and Recreation veteran having appeared in the Amy Poehler-led series about government employees since its inception and serving as best friend ot Poehler's Leslie character. She is currently working with Warner Bros. Television on Celeste & Jesse Forever with her writing partner Will McCormack.
Lowe joined the show in Season 2 shortly after Adam Scott and has stuck around for 75 episodes despite his role originally being designed for a multi-episode guest arc that grew into much more. He steps into the shoes of John F. Kennedy in Killing Kennedy that will air on NatGeo.
Parks and Recreation has proven to be a successful springboard into other projects despite it never putting up steady but never huge ratings. Chris Pratt is starring in Marvel's Guardians of the Galaxy, Aziz Ansari has appeared in numerous film comedies, and Nick Offerman is offering his voice to The Lego Movie, amongst others.
Parks and Recreation: Season 6 premieres September 26 on NBC with a one-hour episode that will lead into the series premiere of The Michael J. Fox show.
Source: Buzzfeed