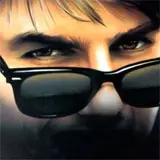 Warner Home Video has officially announced a new Deluxe Edition of Risky Business is coming to Blu-ray Disc and DVD on September 16.
The widescreen 1.85:1 1080p video and 5.1 Dolby Digital audio track have both been restored and re-mastered specifically for this release.
Supplementals will feature an all-new The Dream is Always the Same: The Story of Risky Business documentary presented in HD, as well as a Blu-ray exclusive picture-in-picture commentary (available as audio-only on DVD). The full list of extras is as follows.
Video commentary with Tom Cruise, director Paul Brickman, and producer Jon Avnet (Blu-ray exclusive)
Digital copy of the feature film (Blu-ray exclusive)
The Dream is Always the Same: The Story of Risky Business (All new 25th anniversary retrospective documentary on the making of Risky Business featuring interviews with Tom Cruise and cast (HD)
Director's cut of the final scene from Risky Business (with introduction by Paul Brickman)
Original screen tests with Tom Cruise and Rebecca De Mornay
Theatrical trailer
Risky Business: Deluxe Edition on Blu-ray will carry an SRP of $28.99. Check back regularly for high resolution cover art and pre-order information.