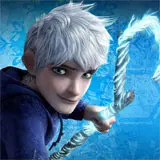 DreamWorks Animation has announced a March 12 release date for their latest feature-length 3D animated film Rise of the Guardians.
The story about the Guardians – including Jack Frost, Easter Bunny, Tooth Fairy, and Sandman – has failed to reach $100 million at the domestic box office and also did not secure an Academy Award nomination for Best Animated Feature. It did resonate with those who went out to see the unconventional tale and should be a hot seller on home video.
Tech specs for Rise of the Guardians on Blu-ray are not yet available, but I can confirm that there will be a Blu-ray 3D combo pack with Blu-ray, DVD and a digital copy, as well as a Blu-ray and DVD with digital copy combo pack. The latter will have an alternate package that includes two "Hopping Toy Eggs." Images are below.
Relatively light bonus features (based on what DreamWorks/Paramount has revealed thus far) for all the Blu-ray configurations include:
Blu-ray exclusive: Additional Scenes
The Croods trailer
Sneak Peek – Turbo
Featurette: Legendary Features
Click here to pre-order Rise of the Guardians on Blu-ray 3D combo for $28.99 at Amazon.com, 47% off the $54.99 list price.
Click here to pre-order Rise of the Guardians on Blu-ray for $21.99 at Amazon.com, 45% off the $39.99 list price.