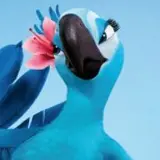 Fox's animated film Rio made its Blu-ray, Blu-ray 3D and DVD debut on August 2. In order to get the Blu-ray 3D version you had to pick it up from Best Buy thanks to an exclusive agreement between Fox and the retailer.
If you wanted to purchase Rio on Blu-ray 3D starring the voice talents of Jesse Eisenberg and Anne Hathaway from somewhere else, you'll soon be in luck. Online retailer Amazon.com has begun taking pre-orders for Rio on Blu-ray 3D with an August 30 release date. Considering how long Avatar has been exclusive to Panasonic (coming up on a year now), waiting less than a month for Rio to get a wide release isn't that big of a deal.
The Blu-ray 3D version of Rio contains everything on the Blu-ray 2D package plus obviously the 3D version of the film. You can check out the cover art below.
Click here to pre-order Rio on Blu-ray 3D for 27.99 from Amazon.com, 44% off the $49.99 list price.