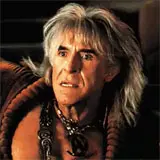 The man who made bare chested villains cool is no longer with us. Ricardo Montalban died Wednesday morning at the age of 88 due to a cause no one can avoid: old age.
Ricardo will be most remembered for playing suave Mr. Roarke on Fantasy Island and Kirk's revenge-bent nemesis in Star Trek II: The Wrath of Khan.
Within the industry, Ricardo's legacy stretches beyond the screen and into his activism for Latino's in Hollywood. He helped paved the way for stars like Cheech Marin and Edward James Olmos as the first Mexican actor to find success within the industry.
For everyone else, there's no more fitting way to say goodbye to a legend than by screaming one single four-letter word one last time.
"KHAAAAAAAAN!"