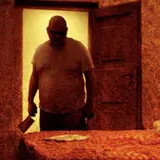 The latest in Warner Home Video's Raw Feed direct-to-video series, Otis (Uncut), was originally scheduled to appear on Blu-ray day-and-date with DVD earlier this summer. Shortly before release Warner pulled only the Blu-ray version from the release schedule and a few weeks later rescheduled it for October 7.
Now we've learned Warner has scrapped the original cover art featuring a big shot of Otis and gone with a collage layout instead. You can view both the old and new covers below (the old is on top).
We also have the new back cover for Otis on Blu-ray which reveals the disc specs: widescreen 2.4:1 1080p video and 5.1 Dolby TrueHD audio.
Missing from the back cover is any sign of the extra features announced way back in March. We cross-checked the relatively new Body Heat Blu-ray press release that includes Otis and the extras aren't listed there either.
Are the extras included or aren't they? We don't have a definitive answer but it sure looks like they've been scrapped. Just in case, here's a refresher of what they were once scheduled to include.
Commentary by Director Tony Krantz and Writer Erik Jendresen
The Twisted World of Otis in which the cast and crew discuss how and why comedy works within the confines of the film
Suite 16, the home movie of Otis
Alternate Ending with introduction by Tony Krantz – gives a starkly different tone and finality to the film.
Otis (Uncut) on Blu-ray will carry an SRP of $28.99. You can support HDR by choosing to pre-order Otis through Amazon.com at a discounted price through this link.