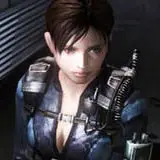 Capcom has released a free playable demo of Resident Evil Revelations for 3DS to the Nintendo eShop. If you haven't downloaded it yet, go get it.
Resident Evil Revelations has been built from the ground up to take advantage of Nintendo 3DS features including 3D gameplay. Playable familiar characters include Jill Valentine, Chris Redfield and Keith Lumley, along with additional characters Parker Luciani, Jessica Sherawat and Quint Cetcham.
The demo follows Valentine and Luciani onto an abandoned cruise ship aka a "ghost ship" as they search for Chris Redfield.
The full Resident Evil Revelations game arrives on 3DS on February 7. Later this year, Capcom will release Resident Evil 6 on Xbox 360 and Playstation 3.
Click here to pre-order and secure your copy of Resident Evil Revelations for 3DS at Amazon.com.