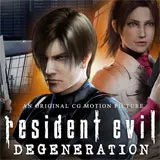 Sometime in December or at the latest January, Sony Pictures Home Entertainment will release the first Resident Evil all-CGI movie on Blu-ray Disc, day-and-date with DVD and PSP.
Sony describes what will be the fourth Resident Evil film as follows:
The "Umbrella Incident" that took place in Raccoon City was ended with the eradication of the deadly virus by a missile attack ordered by the government. As its operations were suspended on a global scale, Umbrella Corporation stock plummeted. This serious blow to the business giant resulted in its complete dissolution.
7 years later, at an airport somewhere in the United States. An ordinary autumn afternoon. One zombie is unleashed into this peaceful scene to attack everyone. In the airport starting to fill up with the undead, the horrific disaster is about to be repeat itself…
We've got early Blu-ray specs and extra features to share which include a nod to Resident Evil 5 on Playstation 3 and Xbox 360. In addition to a 1.78:1 1080p video transfer and 5.1 Dolby TrueHD audio, expect the following:
Interactive Picture-in-Picture (Blu-ray exclusive)
Trivia Track
The Making of Resident Evil: Degeneration
Character Profiles
Voice Bloopers
Leon Interview
Resident Evil: Degeneration Trailer Collection
Resident Evil: Degeneration Tokyo Game Show Trailer
Resident Evil 5 Video Game Trailer
Look for the official Resident Evil: Degeneration announcement in the weeks ahead with an exact release date, high resolution cover art and pre-order information.
In the meantime, we've added Resident Evil: Degeneration to the Blu-ray Future Releases section.
Comment in the dedicated HDR Forums Resident Evil: Degeneration Blu-ray thread.