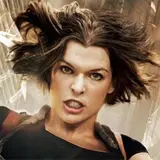 Last night zombies ruled the airwaves in AMC's The Walking Dead. To keep the undead momentum stumbling forward, Sony Pictures Home Entertainment this morning announced that Resident Evil: Afterlife will follow its nearly $274 million in worldwide box office business to Blu-ray, Blu-ray 3D (which includes the 2D version as well) and DVD on December 28.
Resident Evil: Afterlife starring Milla Jovovich marks the fourth film in the series and the fourth standalone Blu-ray 3D title Sony has offered. The Blu-ray edition will carry an SRP of $34.95 while the Blu-ray 3D version is set at $39.95.
Bonus features are identical between the Blu-ray and Blu-ray 3D versions; however, there are numerous supplements that will not appear on DVD as noted below (including 5 of the 7 featurettes but I'm not sure of which ones yet).
BD Exclusive: PS3 Wallpaper Theme
BD Exclusive: movieIQ™+sync and BD-Live
BD Exclusive: Undead Vision: Picture-in-Picture
BD Exclusive: Deleted & Extended Scenes
BD Exclusive: Outtakes
Filmmaker Commentary
Back Under the Umbrella: Directing Afterlife
Band of Survivors: Casting Afterlife
Undead Dimension: Resident Evil in 3D
Fighting Back: The Action of Afterlife
Vision of the Apocalypse: The Design of Afterlife
New Blood: The Undead of Afterlife
Pwning the Undead: Gamers of the Afterlife
Pre-order Resident Evil: Afterlife on Blu-ray for $24.49 at Amazon.com.
Pre-order Resident Evil: Afterlife on Blu-ray 3D for $27.99 at Amazon.com.