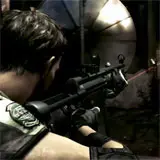 The Resident Evil 5 playable demo will be available today to download! Yay! But there's a catch.
The demo will only be available on Xbox Live Marketplace. It will also only be available to Xbox Live Gold Members. Silver Members will have to wait until Thursday.
PS3 owners will still get to experience the demo but they'll have to wait another week.
The demo opens up "three new levels of single and two player co-op play (limited to Gold members), characters, weapons and environments."
Microsoft has also scored the first clue to the Kijuju mystery (re: viral campaign) that Capcom is running. The clue will be available at www.Xbox.com/RE5 before this week is out. Once the clue is acquired, it can be used to help crack the mystery at www.residentevil.com/Kijuju.
Resident Evil 5 will make its long-awaited retail debut on March 13 on Xbox 360 and PS3.