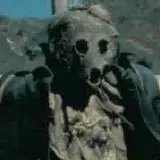 The gang over at CHUD.com are reporting the cult classic Dark Night of the Scarecrow is being prepped for release on DVD and Blu-ray Disc. To date the film has never appeared on either disc format leaving VHS as the only viewing option.
The scoop originated at Deadpit.com who interviewed director J.D. Feigelson and successfully extracted the information.
Per Feigelson, Image Entertainment will distribute the title sometime in 2009 as a special edition release.
Dark Night of the Scarecrow has cemented its place in history as a low budget made-for-tv horror flick released in 1981. We'll let the guys from CHUD provide a proper synopsis.
"For those who have yet to see the film, it's a classic revenge tale about a retarded man named Bubba (Darkman's Larry Drake) who's unjustly accused of attacking a young girl that he's befriended. The local hicks form up a lynch mob and they chase Bubba back to his home, where he tries to hide from them by dressing up as a scarecrow in his mother's field. They aren't so easily fooled and unload a barrage of bullets into him, brutally killing him. They stick a pitchfork in his hands and say that it was done in self defense, and get off scot-free."
More Dark Night of the Scarecrow on Blu-ray news should trickle out in early 2009.