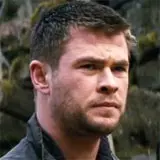 The Wolverines will make their way to Blu-ray and DVD on March 5, 2013 when MGM releases the 2012 remake of Red Dawn starring Chris Hemsworth (Thor), Josh Hutcherson (The Hunger Games), Adrienne Palicki (G.I. Joe: Retaliation), Isabel Lucas (Transformers: Revenge of the Fallen) and Connor Cruise.
Right now it is looking like Red Dawn (2012) is coming to Blu-ray as a bare bones release based on the initial press announcement. There is a possibility bonus features will be announced at a later date so don't completely write them off just yet.
As the cover art below confirms, Red Dawn (2012) comes to Blu-ray in a DVD and digital copy combo pack. It will also be presented in 1080p video and 5.1 DTS-HD Master Audio.
Red Dawn (2012) on Blu-ray is not yet available for pre-order at Amazon.com.