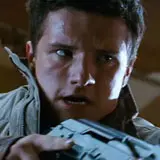 MGM's remake of Red Dawn starring Chris Hemsworth, Josh Hutcherson, Jeffrey Dean Morgan, Adrianne Palicki, Josh Peck, Isabel Lucas, Connor Cruise and Edwin Hodge finally overcame delays caused by the company's bankruptcy proceedings and arrived in theaters yesterday riding a wave of horrific reviews from critics. The remake will probably vanish from theaters relatively quickly and, as we have just learned, will make its way to home video as fast as possible.
Online retailer Amazon.com has published a DVD page for Red Dawn complete with a February 26, 2013 release date. That is the earliest possible release distributor Film District could have chosen given the 90-day rule between theatrical and home video release.
We fully expect the Red Dawn Blu-ray release date to be the same and have our eyes open for when the film's Blu-ray page at Amazon updates with the correct cover art and a pre-order link.