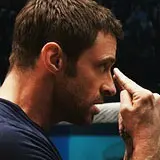 Real Steel proved to be the real deal again at the box office this past weekend, winning a late decision bout with Paramount's remake of Footloose for the top spot. Universal's The Thing took third place, but that's the end of the good news for the prequel/remake. Compared to last year during the same frame, this year is off a whopping 33% without the might of Jackass 3D pulling in just over $50 million.
Hugh Jackman continues to be box office gold as Real Steel held on for a second consecutive weekend box office win from $16.3 million in business, a 40 percent drop from its opening weekend. With a total of $51.7 million through 10 days, Real Steel stands a legitimate chance at making a run for $100 million by the time it retires from theaters and heads to home video.
Footloose had narrowly won its debut on Friday over Real Steel by a margin of $900,000, but the choreographed dance moves of Julianne Hough and Kenny Wormald couldn't fend off Jackman and his robotic boxing friends. Though Footloose only missed first by $200,000, Paramount can't be pleased that the remake finished below the roughly $20 million the original with Kevin Bacon made back in 1984 when adjusted for inflation.
While more a prequel than a remake, Universal's The Thing still suffered from offering moviegoers little new over what the originals did nearly 30 years prior. The $8.7 million opening through three days during the Halloween season is abysmal and will send The Thing on a fast track to DVD and Blu-ray as soon as the theatrical window closes.
The other newcomer, Fox's The Big Year, never showed signs of a pulse in its weak $3.3 million debut, good enough for ninth place. Odds are favorable most who don't follow new film releases never heard of it, which was part of the problem for Fox. There was never a big marketing push or momentum heading into The Big Year's debut. This is the last you'll hear about The Big Year until its home video debut.
Spots four through eight all went to holdovers that each continue to hold on strongly despite their age at the box office. George Clooney's The Ides of March nabbed $7.5 million, a drop of only 28 percent. It now has pulled in $22.2 million through 10 days.
Fifth went to Dolphin Tale which has proven slipper to push out of the top five. The family friendly flick dipped 31 percent to $6.4 million and now stands at $58.7 million overall.
Moneyball slipped only 26 percent in bringing in $5.5 million behind Brad Pitt, good enough for sixth. 50/50 dipped a mere 24 percent to $4.3 million and a seventh place finish. The Joseph-Gordon Levitt comedy/tearjerker is at $24.3 million to date.
Eighth place was occupied by Courageous with $3.4 million. Its overall take is now $21.4 million strong.
Wrapping the top 10 is Disney's The Lion King 3D. Simba's roar may be fading, but another $2.7 million in ticket sales brings the classic's return to theaters total to $90.4 million.
Next weekend, The Three Musketeers will swing their swords in 3D while Paranormal Activity 3 goes back in time to deliver new scares. Johnny English Reborn sees the return of Rowan Atkinson, while The Mighty Macs will battle a small screen count to tell the story of the Immaculata College women's basketball team's journey to the National Championship.