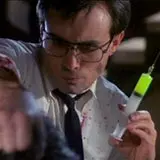 H.P. Lovecraft's 1985 cult classic horror flick Re-Animator has been cleared by Image Entertainment to make its Blu-ray debut on September 4.
Re-Animator stars Bruce Abbot, Barbara Crampton, Jeffrey Combs and David Gale in a twisted tale about a scientific experiment that spawns a murder and subsequently something much more horrific.
Image is bring Re-Animator to Blu-ray in a new 1080p HD transfer approved by producer Brian Yuzna, along with a new 5.1 DTS-HD Master Audio track. Re-Animator will also pack a full plate of extras including:
Documentary: "Re-Animator Resurrectus"
Audio Commentary by Director Stuart Gordon
Audio Commentary by Producer Brian Yuzna and Actors Bruce Abbott, Jeffrey Combs, Barbara Crampton and Robert Sampson
Interview with Director Stuart Gordon and Producer Brian Yuzna
Interview with Writer Dennis Paoli
Interview with Composer Richard Band
Music Discussion with Composer Richard Band
Interview with Fangoria Magazine editor Tony Timpone
Deleted and Extended Scenes
Theatrical trailer
TV Spots
Click here to pre-order Re-Animator on Blu-ray for only $14.99 at Amazon.com. View the Re-Animator Blu-ray cover art below.