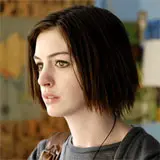 Anne Hathaway takes what could be her last step towards shaking her squeaky clean image from The Princess Diaries in the dysfunctional family drama Rachel Getting Married, scoring a sharp 87% fresh rating at Rotten Tomatoes.
According to a new pre-order listing at Amazon.com, Sony has set a date for Rachel Getting Married to walk the isle on Blu-ray Disc March 17, day-and-date with DVD.
Sony has yet to make an official announcement for Rachel Getting Married on Blu-ray so we unfortunately don't have any additional details to share at this time. Confirmation from Sony should arrive within the next week and we'll be sure to pass along all the goodies then.
Click here to pre-order Rachel Getting Married on Blu-ray for $27.99, 30% less than the $39.95 list price, from Amazon.com.