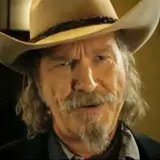 Ryan Reynolds and Jeff Bridges act a lot like Will Smith and Tommy Lee Jones in the first trailer for R.I.P.D.. What you are about to watch is not some alternate universe take on Men in Black even if it appears to be.
Here's the setup: Ryan Reynolds plays a cop who is brutally murdered while on the job. Upon his death he awakens in the afterlife and is recruited into the R.I.P.D. (Rest In Peace Department) force of afterlife crimefighters. Their job is to stop criminals who don't quietly head into life after death as they are supposed to, instead choosing to harass the living.
Reynolds is teamed up with Jeff Bridges who appears to have forgotten what film he's shooting and thinks he is Rooster Cogburn again. Operating out of a secret facility that looks a lot like Men in Black headquarters, the pair go around blasting the deceased hiding amongst the living while searching for Reynolds' killer.
There's some fun to be had with the disguises that Reynolds and Bridges don while dealing with the living; an old Asian man and hot blonde, respectively. Otherwise R.I.P.D. comes across as a Men in Black knock-off, which may not be a terrible thing if it can attract the type of audience that Sony moneymaker has.
R.I.P.D. is directed by Robert Schwentke and also features Kevin Bacon, Mary-Louise Parker, Stephanie Szostak, Robert Knepper, James Hong, Marisa Miller, Mike O'Malley and Devin Ratray. It's set for release on July 19, 2013 in 3D.