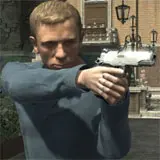 As Quantum of Solace nears its release next week, Activision continues to pump out new videos designed to get us excited.
The latest shows James working all his cover moves in a quick but useful lesson in 007 warfare. He starts simple by taking cover to avoid fire.
From that position he fires blindly around the corner in hopes of striking an enemy. Next, he quickly dashes forward to another cover point.
The dash is then used alongside a take down move to quickly off an enemy without firing a shot.
Lastly, Bond switches between two side-by-side cover points with ease and grace.
Quantum of Solace on Xbox 360, Playstation 3 and Wii arrives in stores November 4.