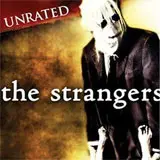 On October 21, those creepy hood-donning Strangers will make their home video debut on DVD and Blu-ray Disc.
To help get you in the mood for the film, Universal Studios Home Entertainment has launched a new interactive promotional website.
At the site you can select an image off of your computer, Flickr or Google's PicasaWeb, then place a Stranger into the image. It's simple mindless fun worth checking out.
"Terrify your friends. Put The Strangers into your photos! Start Here!"