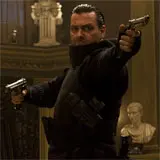 Lionsgate's Punisher sequel, War Zone, limped to an unimpressive $8 million at the box office behind its new lead Ray Stevenson. With virtually no chance of recouping its $35 million production budget, Punisher: War Zone will arrive on Blu-ray Disc and DVD on March 17 in hopes of luring the audience enticed by the trailers but unwilling to brave the cold and see it theatrically.
The Punisher: War Zone Blu-ray Disc set will include two discs with the second disc including a digital copy of the film. Lionsgate's proprietary MOLOG BD-Live Chat feature is expected to be included. At this time a full list of bonus features has yet to be announced.
Julie Benz of Dexter fame co-stars in Punisher: War Zone, marking her fourth appearance on Blu-ray Disc. You can see her other films and rate her through her link in the disc details below.
Punisher: War Zone on Blu-ray will retail for $39.99. Check back regularly for the full announcement with disc details, high-res cover art and Amazon pre-order information.