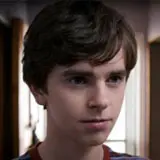 A&E's Bates Motel is one of the more intriguing new television series premiering this spring. Apart from being a prequel to Alfred Hitchcock's Psycho, it comes from the mind of Carlton Cuse (Lost) and Kerry Ehrin (Friday Night Lights, and stars Vera Farmiga as Norman Bates' (Freddie Highmore) mother.
The series picks up during Norman's teenage years. He and his mother, Norma, have just relocated to a Northern California coastal town and purchased the infamous Bates Motel to spruce up and put back into business.
Unlike the original Psycho, Bates Motel is set in modern times. The hour-long thriller will follow the extremely close relationship between Norma and her son, but it won't necessarily abide by all the rules of the original film.
"We do not want do an homage to Psycho… we don't really view any of that as canon," co-creator Cuse told the Television Critics Association winter press tour attendees yesterday . Farmiga backed up Cuse's claim by stating Norma is a "beautiful portrait of valiant maternity," and that the show's story is a "love letter between a mother and her son."
Cuse also confirmed that Bates Motel will not overlap with the Psycho story so Marion Crane will never come into the picture. The project is designed to both stand on its own while at the same time offering some insight into what powers the strange relationship between Norman Bates and his mother.
Bates Motel also stars Nestor Carbonell, Nicola Peltz and Mike Vogel, and premieres on A&E on Monday, March 18. Watch the first trailer below to get a feel for what Cuse and Ehrin are shooting for. Thus far it looks like quite the equally thrilling and disturbing ride.
Source: Vulture