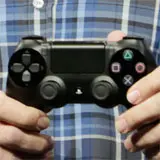 Sony was shy this evening about revealing the hardware for the upcoming Playstation 4 console. They were not shy, however, about introducing the new DualShock 4 controller and PS4 Eye camera, the former of which had been leaked within the past week. Both will be packaged in with every PS4 console.
It turns out the numerous leaks regarding the DualShock 4 were pretty much on the money. The "Select" and "Start" buttons have been replaced by an "Options" button and a touch-pad that sits dead center on the controller's face. A new "Share" button has been introduced that allows gamers to quickly upload gameplay video and screenshots to social networks like UStream and Facebook, which Sony has heavily built in support for. There's also now a built-in speaker and a headphone jack, and the six-axis sensor has been redesigned to be more sensitive and accurate. A Mono Headset will also be included in the PS4 console package.
It had been assumed that a new light bar on the front of the DualShock 4 was to add PS Move functionality. That turns out to be true but not the whole story. The three color LEDS in the light bar will also be used to identify players, as well as pass pertinent game information such as low health (think a pulsing red LED if this is the case). I wouldn't consider it an amazing new addition, but it is a nice touch that adds a little extra bling to gaming controller functionality.
The analog sticks and triggers have been rebuilt to provide "a much tighter sense of control over in-game actions." This tweak could provide especially important for FPS fans looking for tighter controls.
Also of note is the DualShock 4 can be charged via the PS4 console while it is in standby mode, via a dedicated charger, or via a USB smartphone charger.
Below are some tech specs for both the DualShock 4 and PS4 Eye Camera along with the some high resolution images (click to enlarge).