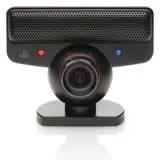 Online retailer Amazon.com has shaved nearly half off their price for the PS3 Eye Camera to bring it in at $22.98, or 43% less than the $39.99 retail price.
The aggressive "sale" price move has shot the camera into the number four hourly sales spot for all of videogames at the retailer. Only World of Warcraft: Wrath of the Lich King Expansion Pack, Nintendo Wii and Wii Fit are selling more briskly.
For games, the PS3 Eye Camera can be used in SOCOM: Confrontation and The Eye of Judgement.
For Blu-ray, it can be used on a select number of BD-Live enabled titles to create video commentaries. Some titles, like Universal's recently announced Death Race, will let you upload the commentary which can then be voted on with prizes at stake (see details).
Click here to scoop up a cheap PS3 Eye camera at Amazon.com.