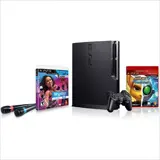 Amazon.com's Black Friday week is officially underway with numerous sales already on the table. I took a quick look and pulled out a Sony Playstation 3 deal for those of you looking to add the Blu-ray 3D equipped console to your entertainment system this holiday season.
For today only, Amazon.com is selling a Playstation 3 console family bundle including the 160 GB Slim PS3 console and two games: Ratchet and Clank: A Crack in Time and SingStar Dance Party with 2 wired mircophones. Essentially you're paying for the console and getting both of the family friendly games for free.
Browse or buy the PS3 family console bundle for $299 at Amazon.com.
Amazon is also selling a number of Blu-ray and DVDs at a discount today. You can check out the full list here.