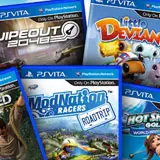 Amazon.com has joined retailers Target and GameStop to offer a buy two Playstation Vita games, get a third for free promotion in celebration of Sony's new handheld gaming console arriving in stores.
Like the other deals, Amazon's is good through this Saturday, February 25. The lowest priced game of the three is the one you'll get for free.
Based on Amazon's bestsellers chart, the trio of games most new PS Vita owners are going after are Uncharted: Golden Abyss, Rayman Origins and Lumines: Electronic Symphony. After those three, the next most popular PS Vita games being sold in the deal are Ultimate Marvel vs Capcom 3, Hot Shots Golf: World Invitational and wipEout 2048.
Click here to shop Amazon's buy two PS Vita games, get one free sale.
Making up the remaining list of 15 PS Vita games eligible for Amazon's promotion are FIFA Soccer, BlazBlue: Continuum Shift Extend, ModNation Racers: Road Trip, Dungeon Hunter Alliance, Little Deviants, Asphalt: Injection, F1 2011, Michael Jackson: The Experience and Ben 10 Galactic Racing.
The other nine or ten PS Vita sales coming out this week are not available in the promotion.