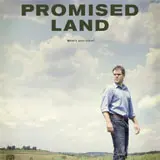 Universal Studios Home Entertainment has announced an April 23, 2013 release date for the environmentally charged drama Promised Land on Blu-ray and DVD.
Written by John Krasinski and Matt Damon, and directed by Gus Van Sant, Promised Land is the story of an economically struggling small town whose ticket to a big payday comes at the expensive of letting a big corporation drill on their properties. The film has earned $7.6 million at the box office thus far.
Promised Land comes to Blu-ray in 1080p video and 5.1 DTS-HD Master Audio. The Blu-ray edition is a combo pack with DVD, a digital copy and UltraViolet. Bonus features include an extended scene and a making-of documentary.
Click here to pre-order Promised Land on Blu-ray for $24.99 at Amazon.com, 30% off the $34.99 list price.