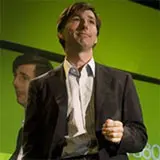 Microsoft's new Project Natal continues to build buzz after its unveiling yesterday during their E3 Press Briefing. The further pump up the media and all of you, new videos have been released showing Natal and one of its apps, "Milo," doing the fashion equivalent of a runway strut.
Project Natal offers hands-free gaming via an RGB camera, depth sensor (monochrome CMOS) that works under any lighting condition, multiarray microphone that separates voices from ambient noise and sound, and custom processor running proprietary software — all housed within a single device that sits at the base of your television (pictured below) and works with any previously released Xbox 360 sku.
These new promotional videos show off not only the obvious gaming applications for Natal such as "Milo," fighting, car racing (including using an "air" drill to change tires in the pit), and sports, but lifestyle uses such as connecting with a friend to choose an outfit by "air" flipping through them, or saying "goodnight" after a movie ends to shut the Xbox 360 and Natal off.
Like Nintendo Wii, Natal is poised to become a must-own entertainment device and should sell strong if Microsoft can pinpoint Natal's version of Wii Sports and package it with each unit. With 30 million Xbox 360 units already out the door, Natal has the potential to be a legitimate game-changer.
Microsoft has pledged to put Project Natal dev kits into the hands of third party studios this week. Without Microsoft offering a time frame for release, the earliest anticipated on-shelf date for Natal is sometime in 2010.