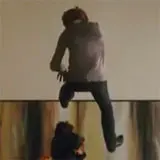 The French will get to munch on popcorn and watch The Twilight Saga: New Moon a full two days before anyone in the United States can.
The record-breaking Twilight New Moon teaser trailer has debuted in France with the kicker being a November 18 release date confirmed in its closing. As anyone following Twilight knows, New Moon will not rise in the US until November 20.
A quick glance at a calendar shows November 20 is a Friday, the natural choice for a new theatrical bow. That would make the 18th a Wednesday and introduce an interesting theory.
A few months before Transformers: Revenge of the Fallen was set to debut on Friday, June 26, Paramount moved up the release date by two days to take advantage of the huge momentum building into the release and two additional days at the box office for the extended opening weekend. Not long after Paramount made that move, Warner Bros. Pictures did the same with Harry Potter and the Half-Blood Prince by moving it from July 17 to 15.
There are still five months between now and the release of New Moon. Distributor Summit Entertainment has seen interest in the Twilight sequel swell since production began to the point where any one of the film's stars blowing their nose in public is considered newsworthy. Twilight continues to rise.
Maybe Summit will play the role of a major studio and go for the five-day opening weekend and push up New Moon to November 18. Imagine this: the already manic crowd at the Twilight New Moon San Diego Comic-Con panel being shown a new clip and then the presentation ending with the revised November 18 date. If I were calling the shots at Summit, I'd make it happen.
The French Twilight New Moon trailer is below in case you want to see the November 18 date with your own eyes or enjoy torturing yourself with French dubbing.