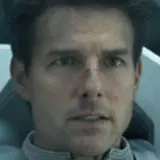 Joseph Kosinski's Oblivion starring Tom Cruise, Olga Kurylenko, and Morgan Freeman should make for a visually and aurally amazing Blu-ray when it is ultimately released. Though the title has been available for pre-order since it was first released theatrically, we haven't known when to expect the Blu-ray and DVD version to arrive on store shelves.
Tipster Josh dropped us a line that he spotted the Oblivion Blu-ray and DVD release date on the Barnes & Noble website, embedded within the code of the page. The date has since been removed, but Josh took note and now we're passing the date along to you: July 30, 2013. Keep in mind that all rumored release dates are not final until the studio confirms them.
Universal's formal Oblivion press released with details and cover art most likely won't arrive for several more weeks, if not more than a month. If you loved the film and want to lock in a pre-order, you can do so below.
Click here to pre-order Oblivion on Blu-ray and DVD combo for $23.99 at Amazon.com, 31% off the $34.98 list price.