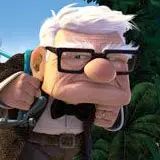 Disney and Pixar's UP will be floating to Blu-ray 3D on December 4, timed to coincide with the Blu-ray 3D debut of Finding Nemo on the same day.
UP is directed by Pete Docter and Bob Peterson, and will come to Blu-ray 3D in an impressive 5-disc configuration that includes the new Blu-ray 3D version, as well as the film on Blu-ray, DVD and a digital copy. All the bonus features from the previously released Blu-ray version of UP will be ported over to the new Blu-ray 3D release. The only difference between the new release and the previous one is the inclusion of a Blu-ray 3D presentation.
Check out the Blu-ray 3D cover art for UP below.
Click here to pre-order UP on Blu-ray 3D for $34.85 at Amazon.com, 30% off the $49.99 list price.