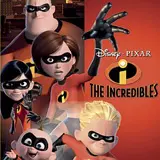 Brad Bird and Pixar's The Incredibles finally debuted on Blu-ray just a few months ago. Now with the arrival of Pixar's sequel Cars 2 in theaters this upcoming weekend, Amazon.com has finally lowered The Incredibles on Blu-ray to an incredibly low price.
Earlier today, Amazon adjusted the price of The Incredibles on Blu-ray to $19.99 or 57% off the $45.99 list price. This is the big four-disc set that also includes the DVD, a digital copy, and an additional disc dedicated to bonus features. The new price immediately shot The Incredibles on Blu-ray into Amazon's Blu-ray top 10 bestsellers list.
Click here to buy The Incredibles on Blu-ray for $19.99 at Amazon.com.
In a remotely connected coincidence, the first trailer for Bird's Mission Impossible: Ghost Protocol is also expected to debut in theaters this weekend. I'm sticking with the Cars 2 release for the reasoning behind The Incredibles price drop.