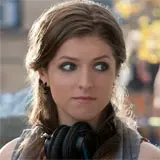 Universal is looking to add some vocals to this holiday season in revealing their plans to release the musical comedy Pitch Perfect to Blu-ray and DVD on December 18, just in time for last minute shoppers.
In Pitch Perfect, Anna Kendrick (Twilight, Up in the Air) plays a college freshman who hooks up with challenged acoustical singers with aspirations of winning a national competition. Think Drumline or Bring It On, only with singers instead of drummers and cheerleaders, respectively.
Pitch Perfect has made a tidy sum at the box office with over $61 million in receipts thus far, well beyond the reported $17 million production budget. Kendrick, Brittany Snow, Anna Camp and the rest of the cast also drummed up an additional $3.5 million overseas.
Universal is presenting Pitch Perfect on Blu-ray in 1.85:1 1080p video and 5.1 DTS-HD Master Audio. Most of the supplements are shared between DVD and Blu-ray, but there are a couple extras exclusive to the high-def package.
Meanwhile… Find out what other characters are up to in these alternative scenes.
Line-O-Rama: Actors showcase their improvisational skills in this collection of funny one-liners from the set.
BD Exclusive: Even more Meanwhile… and Line-O-Rama
Deleted and Extended Scenes
Starships, The Pitch Perfect Music Video
Backstage at Barden: Profiles & interviews with characters Benji and Bumper.
On The Set: Burrito Drive By!: Behind-the-scenes footage with Fat Amy.
A Look Inside: Catch a glimpse of this ensemble cast, the characters and the actors' thoughts behind them, with this first-look into the movie.
Feature Commentary With Director Jason Moore and Producers Elizabeth Banks and Max Handelman
Feature Commentary with Producer Paul Brooks
Click here to pre-order Pitch Perfect on Blu-ray for $24.99 at Amazon.com, 30 percent off the $34.98 list price.