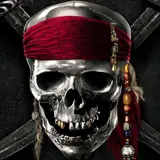 Disney wants to ensure Pirates of the Caribbean fans get a first crack at the fourth film's trailer so they're premiering it first at a Pirates Fans First! event.
This "global trailer premiere" for Pirates of the Caribbean: On Stranger Tides starring Johnny Depp, Penelope Cruz, and Ian McShane will take place at an invitation-only event to be held December 13 at AMC Downtown Disney Theatre 12 in Anaheim, California. To gain access to the event you have to win a pass by liking Yahoo! Movies on Facebook, enter a sweepstakes at www.DisneyMovieRewards.com, or by calling into 102.7 KIIS-FM in Los Angeles starting on December 6.
The online debut for the Pirates of the Caribbean: On Stranger Tides trailer will take place at 1 pm PST at Yahoo! Movies the same day. It will also broadcast on Entertainment Tonight that same evening at 7pm EST.