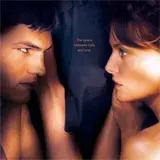 Art will imitate life on May 12 when Universal Studios Home Entertainment release Personal Effects direct-to-video on Blu-ray Disc, day-and-date with DVD.
The film stars Ashton Kutcher as a man seeking vengeance for the murder of his sister only to fall in love with an older woman played by Michelle Pfeiffer. Ashton should have felt right at home in the part.
Universal is prepping Personal Effects on Blu-ray to be presented in its original 1.78:1 aspect ratio with 1080p video and 5.1 DTS-HD Master Audio.
Given its direct-to-video status, bonus features are limited to a lone behind-the-scenes featurette.
We'll pass along Personal Effects cover art and Amazon pre-order information as soon as either are available. In the meantime, we've added Personal Effects too our Future Blu-ray Releases section and you can rate Michelle Pfeiffer through her actress link below.