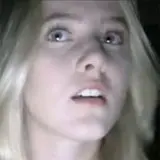 Henry Joost and Ariel Schulman's Paranormal Activity 4 is poised to prove Paramount's formula for horror success once again after attracting decent business from Thursday night midnight screenings, and ever stronger business in overseas markets.
The third sequel in Paramount's cash cow franchise started playing at 9pm on Thursday evening. By the time midnight showings had concluded, the film racked up a $4.5 million head start on the weekend. That's a far cry from the $8 million Paranormal Activity 3 mustered from midnight showings, but does not necessarily mean Paranormal Activity 4's opening weekend will finish at half of the $52.6 million Paranormal Activity 3 put on the board.
Right now Paranormal Activity 4 is tracking to finish Friday somewhere around $15 million and conclude the weekend at $35 million. That would put it behind the other Paranormal Activity films and provide the first evidence of franchise fatigue.
Even though Paranormal Activity 4 is lagging behind its predecessors, it will still win its opening weekend and make millions of dollars for Paramount while playing against strong holdovers Argo, Taken 2 and Hotel Transylvania. The film cost an estimated $5 million to produce, a sum that was almost made up from midnight showings alone.
In addition, Paranormal Activity 4 is off to a hot start overseas where it is expected to make between $20 and $25 million this weekend and is pacing ahead of the previous films in several large territories. Any studio would take a $60 million worldwide opening weekend from a measly $5 million budget.
The first three Paranormal Activity films have grossed roughly $575 million worldwide from a combined budget of only $8 million. Despite a slight slowdown in business from Paranormal Activity 4, I would expect the franchise to have at least two more films left in the chamber, if not more.